Rijksmuseum Guided Tours | Exploring 800 Years of Dutch Art & History
Contents
Select Your Experience
Choose from multiple tickets, tours and combo options by verified operators.
Rijksmuseum, located in Amsterdam, is one of the most famous art museums in the world. Its collection spans over 800 years of Dutch history and showcases masterpieces by renowned artists like Van Gogh, Frans Hals, and Rembrandt. The galleries are organized thematically, with each section showing a different aspect of Dutch history and culture. The Golden Age gallery features some of the most famous paintings, including Rembrandt's The Night Watch and Vermeer's Milkmaid. Rijksmuseum is a must-visit for anyone interested in Dutch art and history.
Why Book a Rijksmuseum Guided Tour?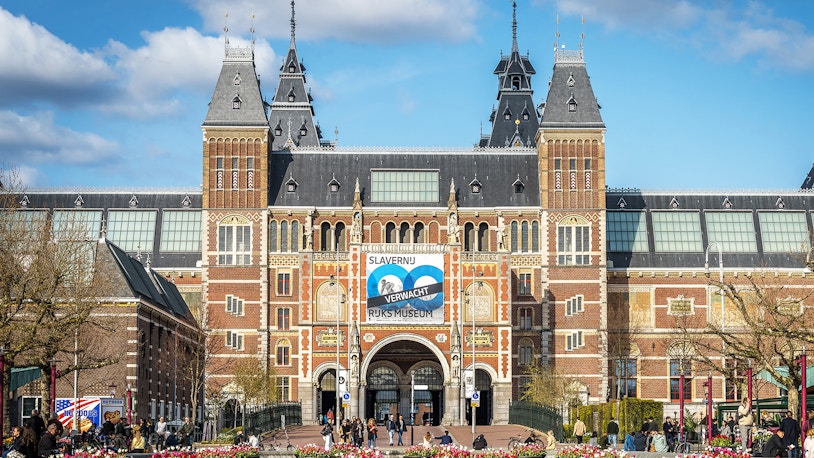 In-depth knowledge: A Rijksmuseum guided tour allows for a more informative experience. You can learn about the artists and how their lives influenced their artworks while strolling through the museum.
Personalized experience: If you want to explore a particular artist or learn about an era in-depth, you can tell your tour guide. A tour guide will offer stories, anecdotes, and insights that you may not know while simply wandering around the museum. 
Fast-track access: Guided tours also offer you the added benefit of skipping long lines at the attraction. You also do not have to worry about missing any part of the museum. 
Safety and security: A guided tour helps you to explore the attraction more efficiently. It is especially beneficial for solo female travelers. An experienced tour guide can also help navigate cultural and language barriers better. 
Highlights of Your Rijksmuseum Guided Tour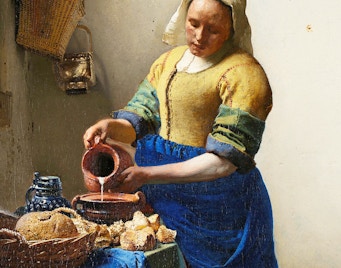 The Milkmaid
Vermeer's The Milkmaid depicts a woman, pouring milk into a bowl and going about her domestic duties. The use of light and color creates depth and dimensionality in the painting. The painting is considered to be a prime example of Dutch everyday life, as portrayed by Vermeer.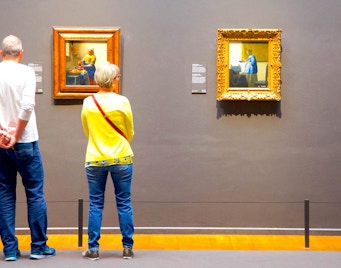 Woman Reading a Letter
Johannes Vermeer's Woman Reading a Letter shows a young woman reading a letter in a softly lit interior. Her expression and posture convey a sense of intimacy and intrigue. Vermeer's masterful techniques have made this piece an exemplary relic of the Dutch Golden Era.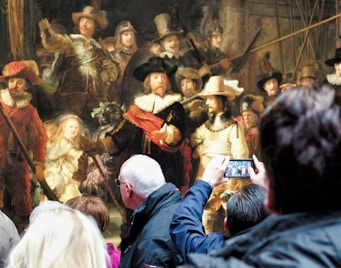 The Night Watch
Rembrandt's The Night Watch depicts a group of military men, who seem to be in the midst of battle. The size, composition, and the artist's dynamic brushwork emphasize the action and energy of the scene. It is a must-see for visitors to the Rijksmuseum.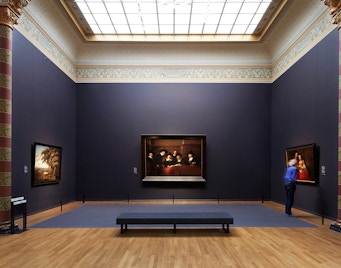 The Jewish Bride
Rembrandt Van Rijn portrays a tender moment between a couple in The Jewish Bride. The masterful use of light and shadow creates a sense of intimacy and depth in the painting. Although the couple's clothing looks Jewish, many have interpreted the couple to be secular.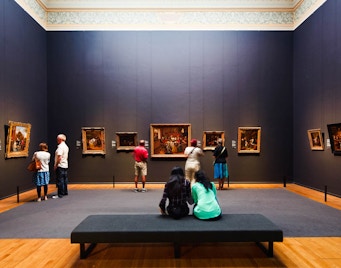 The Merry Drinker
Frans Hals' The Merry Drinker depicts a jovial man with a flushed face, holding a glass of wine and a pipe. Hals uses bright colors and loose brush strokes to create a sense of movement and bring more spirit and character to the subjects in the painting.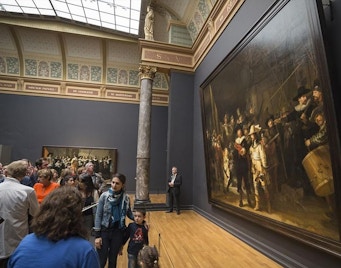 The Threatened Swan
In The Threatened Swan, Jan Asselijn depicts a swan defending its nest against a god, poised to strike in defense. The painting is notable for the artist's use of light and shadow to create dramatic tension in the painting.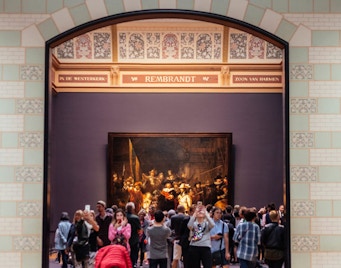 Landscape with the Fall of Icarus
This painting by Pieter Bruegel the Elder portrays the myth of Icarus falling into the sea. It is praised for the artist's use of intricate composition and perspective while painting the image. It could be viewed as a commentary on the insignificance of human suffering in the face of nature.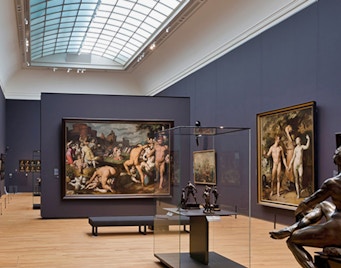 Self-Portrait
Van Gogh's Self-Portrait is a powerful painting that shows the artist himself. The use of bold colors, thick brushstrokes, and a bright blue background captures the introspective yet expressive style of the Dutch art master.
Guided Tours Vs Non-Guided Tours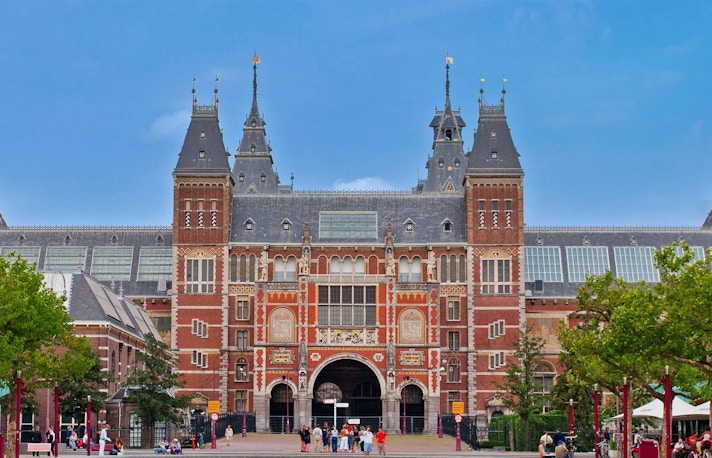 Guided Tours
Expertise: An experienced tour guide will help you explore all the major highlights of an attraction and acquaint you with the history and cultural significance of those places. 
Convenience: You do not have to worry about cultural barriers or language problems, for your tour guide will take care of the transportation, tickets, and access to general areas. 
Time management: A guided tour can help you make the most of your limited time at an attraction by providing a structured itinerary and ensuring that you do not miss any important highlights. 
Safety: It is best for solo travelers to book guided tours for you have fewer chances of getting lost or being misled in a tour group. You can also get advance warnings in case of steep stairs, uneven terrain, or restricted spots. 
Socialization: You can meet like-minded people, who also love traveling to the same kinds of places in these guided tours. Sharing your experience with others can also make for an enjoyable experience.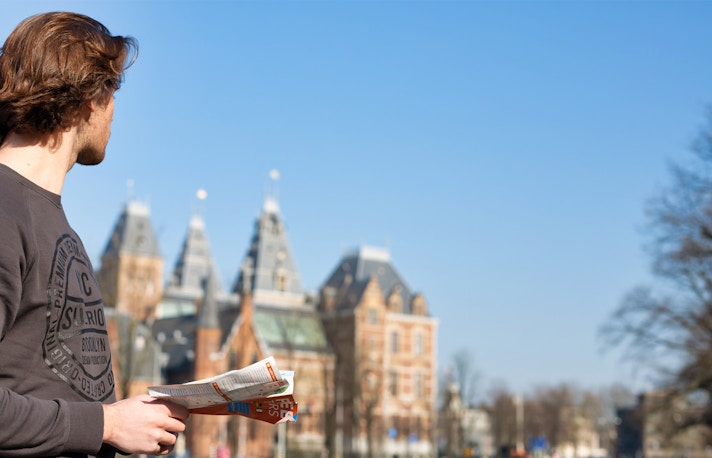 Non-Guided Tours
Flexibility: Without a guided tour, you can plan your own itinerary and cover all the highlights of your attraction. You can go at your own pace and spend more or less time on areas that interest you.
Independence: Exploring an attraction without a tour guide can feel rewarding as you will be responsible for researching and finding out more about the site. 
Cost-effective: Guided tours are comparatively more expensive but well worth their money. You may save a few extra cents not booking guided tours, but you have to research and cover all the major attractions by yourself. 
Limited social interaction: Guided tours give you the opportunity to meet like-minded travelers, however, it may be too overwhelming for some folks, who prefer to spend time at attractions by themselves. If you go without tour guides, you may have limited social interaction. 
May miss attractions: You will have to research and find out about the history, cultural context, and stories behind an attraction by yourself if you visit an attraction without a tour guide. Make sure you do your research well so as not to miss major attractions.
Frequently Asked Questions About Rijksmuseum Guided Tours
Can I book Rijksmuseum guided tours?
How do I book Rijksmuseum guided tours?
We recommend booking Rijksmuseum guided tours online to ensure a hassle-free experience. You can save both time and money, and you also do not have to stand in long lines.
How much does Rijksmuseum guided tours cost?
Rijksmuseum guided tours are around €49.50. They include a 2-hour guided tour of the museum, fast-track access, and local taxes. 
What is included in a Rijksmuseum guided tour?
Rijksmuseum guided tours come with an experienced tour guide, who helps you explore the artworks and artifacts for around 2 hours. You can also avail of skip-the-line benefits with your Rijksmuseum tour tickets. The Rijksmuseum guided tour is available in English, Spanish, German, Italian, and French languages. 
How long is a Rijksmuseum guided tour?
The Rijksmuseum guided tour lasts for about 2 hours, but you can spend as long as you want inside the museum.
In what languages is the Rijksmuseum guided tour available?
The Rijksmuseum guided tour is available in English, Spanish, German, Italian, and French. However, the availability of specific languages can vary. It's always a good idea to check the details of the specific tour you're interested in to make sure it's available in a language that suits you. 
Is the Rijksmuseum guided tour worth it?
Yes, we recommend you book Rijksmuseum guided tours, as an experienced tour guide makes for an informative touring experience. You do not have to worry about missing hidden gems or navigating language barriers. You can also book Rijksmuseum guided tours online to get discounts and combo deals. 
Does Rijksmuseum guided tours allow you to skip lines?
Yes, you can skip ahead and avoid waiting around in long queues if you book Rijksmuseum guided tour tickets online.
What is the cancelation policy for a Rijksmuseum guided tour?
If you book Rijksmuseum tickets online, you can cancel them up to 24 hours before the experience begins to get a full refund on your purchase.